28 July 2019
The Classic keeps on giving!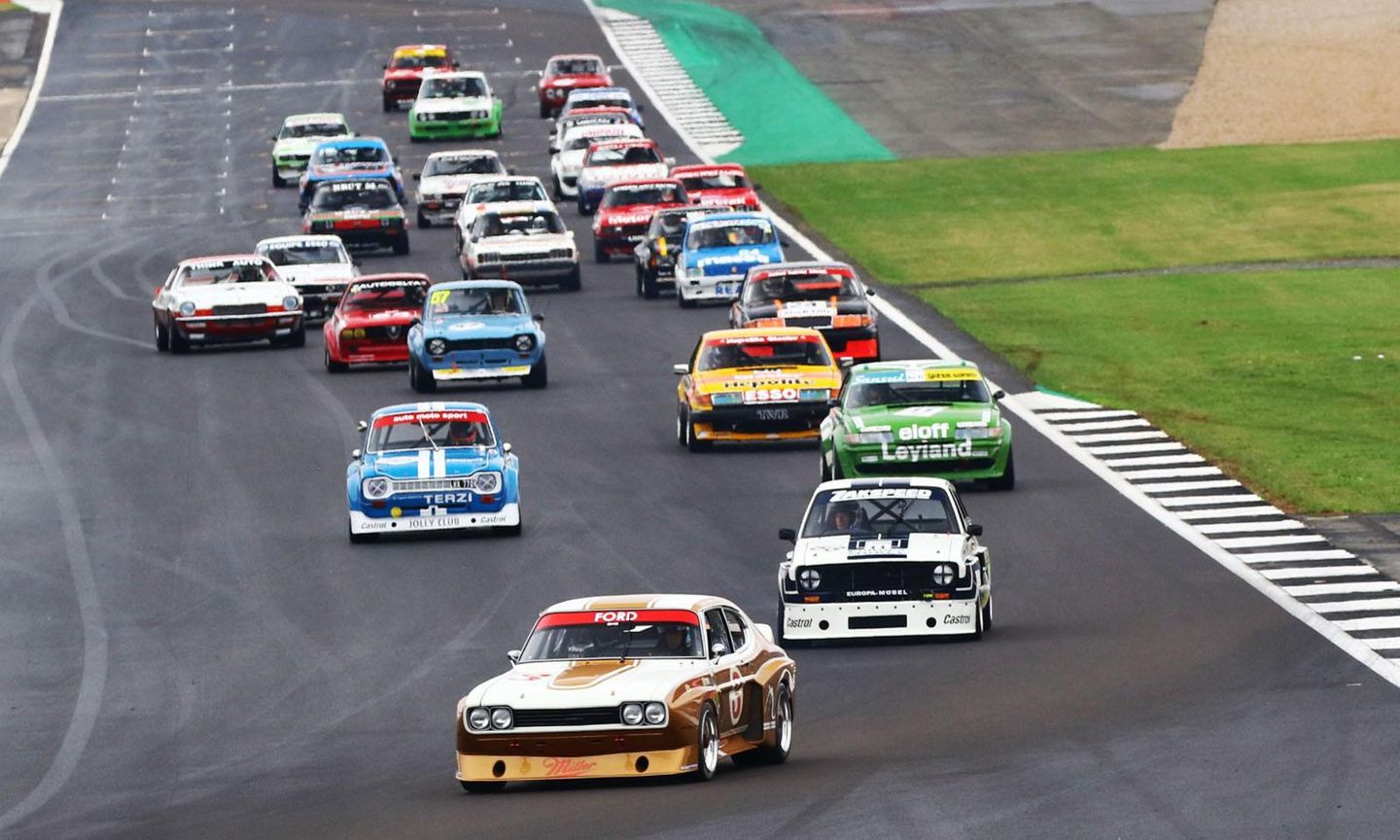 The ultra-competitive racing continued at the 2019 Silverstone Classic on Sunday morning, as did the vast array of off-track entertainment and eye-catching car parades.
On-track activities commenced amidst damp and drizzly conditions with the HSCC Classic Formula 3 – as F3 machinery kicked-off proceedings for the third successive day – and it was 22-year-old Dane Christian Olsen who doubled up with his second victory of the weekend.
Georg Hallau went one better in the HSCC Thundersports by taking a win in the Endurance encounter, following his second place yesterday in the Lola T310. The McLaren M8F of Dean Forward – winner of the sprint contest – unfortunately retired with mechanical problems.
The RetroRun Parade was next on the bill – the culmination of a two-day 100-mile driving experience around local landmarks – which concluded on the legendary Grand Prix circuit.
When racing resumed, the jam-packed HSCC Historic Formula 2 field again produced a hugely exciting race as Martin O'Connell bounced back from a last lap spin in yesterday's lead tussle to win this wet/dry challenge in style. Race one winner – Miles Griffiths – had to settle for second this time around despite a late charge.
Ford – the most successful manufacturer in the British Touring Car Championship – rather fittingly dominated the podium positions in the Historic Touring Car Challenge.
Michael Lyons cruised to victory in the Spa 24 Hours winning Ford Sierra Cosworth RS500, whilst Craig Davies stole second on the final corner in an identical machine. That meant Steve Dance had to settle for the final step on the rostrum overall, but he was further rewarded with the Gordon Spice Trophy as the highest placed Ford Capri finisher.
Current BTCC stars Colin Turkington and Adam Morgan also contested the race, but both faced heartache as their BMW and Nissan respectively were forced into retirement with mechanical issues.
The Capri celebrations continued with a special 50th anniversary parade during the lunch break, but all eyes will soon return to the track for the final five races of this year's unforgettable Silverstone Classic.
Results:
Race 13: HSCC Classic Formula 3
1. Christian Olsen (Martini MK39) 9 laps (90.47mph)
2. Ian Jacobs (Ralt RT3) +16.369s
3. Adrian Langridge (March 803) +21.263s
Race 14: HSCC Thundersports Endurance
1. George Hallau (Lola T310) 17 laps (88.43mph)
2. John Burton (Chevron B26) +2.709s
3. Robert Beebee/Joshua Beebee (Lola T70 Mk3B) +58.569s
Race 15: HSCC Historic Formula 2
1. Martin O'Connell (Chevron B40) 10 laps (100.94mph)
2. Miles Griffiths (Ralt RT1) +1.447s
3. Darwin Smith (March 722) +15.962s
Race 16: Historic Touring Car Challenge
1. Michael Lyons (Ford Sierra Cosworth RS500) 19 laps
2. Craig Davies (Ford Sierra Cosworth RS) +10.036s
3. Steve Dance (Ford Capri) +10.519s